BLOOMINGTON PLUMBING CONTRACTOR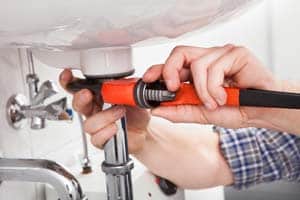 Your premier Bloomington plumbers are only a phone call away if you find yourself needing help with your home's plumbing systems. Instead of attempting to make the repairs yourself and probably winding up with more than you can handle, give us a call and we'll help you avoid worse plumbing issues you'd rather not have, like wastewater soaking into your floors, furnishings, and carpeting.
At Sunkel Plumbing, our expert plumbing contractors have the best equipment available to handle your water heating systems, underground pipes, water outlets, faucet or fixture replacements, and more. We're better equipped than many small companies could ever dream of. And our 60 years of experience means we have all the experience, licensing, and professional skill we need to find and fix your plumbing issues no matter what they are.
Count on our professional plumbers for upfront pricing, fast and friendly service, expert plumbing repairs and installations, and top quality workmanship you can trust to be reliable.
If you are looking for plumbing repairs for your Bloomington home, please call 309-829-5320 or complete our online request form.
Expert Plumbing Contractors For Bathroom and Kitchen Remodeling
If you're remodeling your bathroom and kitchen, our top rate remodeling contractors have everything they need to handle your remodeling project. You'll not have to worry about anything when you remodel your kitchen or your bathroom, because our professionals can give you great quality services.
Water Heating Repairs & Replacements
In order to ensure your home is supplied with the hot water you and your family need all year round, your HVAC system and water heaters also need to be maintained by professional plumbers to ensure you get everything you need in the way of fresh water delivered to your home.
If your hot water heating system or your other plumbing parts are old, there are likely better, newer installations that work better in giving you your hot water supply. And, the newer systems will always have better energy efficiency, so you'll start saving money right away. We can also offer you alternatives such as tankless water heaters, solar water heaters, gas water heaters, and heat pumps.
Plumbing Services in Bloomington, IL areas